Area Calculator
This planimeter tool can be used to measure the enclosed area of a defined polyline on a map.
Measure an Area
Area Output
0 m²
0 km²
0 Acres
0 Hectares
0 Feet²
Perimeter Output
0 m
0 km
Options
[Map Height : Small - Medium - Large
Read KML (Beta)
Instructions
To use the area calculator tool:
Zoom and pan the map to find the area of interest
Click on the map to place a vertices for the polyline
Click as many time as necessary to define the polyline
The area enclosed will them be output in square meters and square kilometers
You can click the [Delete Last Point] button if you make a mistake or click [Clear All] points to remove all points from the map and start again.
You can also reposition the markers after they have been placed on the map by dragging and dropping them.
To draw a new area click the [Start a New Area] button or press Alt+n
Information
The area calculator tool allows you to find out the area that is enclosed inside a closed polyline overlaid on a map.
Benchmarks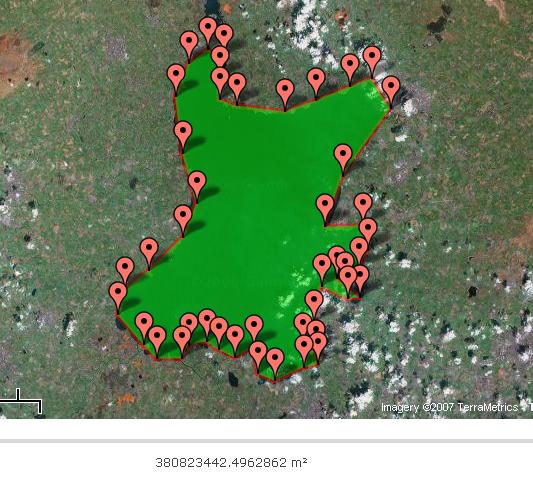 A measurement of Lough Neagh in Northern Ireland. Lough Neagh is reported to have a surface area of 388 km² [1] , so the reading of 380 823 442m² isn't far off.
Future Uses and Ideas
Allow the user to change the colour of the polylines and area shading (including transparent)
Allow the area to be saved for later use
Export to KML option
Version History
17th June 2015 - Markers now show their lat/lng when you hover over them
18th December 2014 - Total area is now calculated
23rd March 2014 - Added Hectares output
6th August 2013 - Issue with perimeter output fixed
21st February 2013 - Added square feet output
8th January 2012 - Upgraded to Google Maps API V3 and some new features
20th July 2010 - Added crosshairs and option to switch on/off crosshairs
17th June 2010 - Added upload KML option (beta)
2nd June 2010 - Moved the scale control to the top of map to stop conflict with Google Search bar
2nd February 2010 - Added perimeter output in meters and kilometers
25th March 2008 - Draggable markers, ability to click inside polygon and output in acres added
26th June 2007 - Basic area calculation added
24th June 2007 - Page created
Comments For This Page
Hands %uD83D%uDE09 Down The Best App I've Used For My Property Ventures.
On 14th June 2018
Excellent service!... I solved my problem with a map in this page. Im very greatfull with you.
By Cristian Villegas on 13th June 2018
Hi, allow to user click (multiple times) on map and colour measure, whole countries within existing boundaries. In addition allow to move with such coloured areas (adjust boundaries and/or move with whole coloured parts od map).
On 6th June 2018
Best apps
By Raju on 4th June 2018
good
By aripgunawan on 1st June 2018
Very useful, excellent creation.
By Jun on 21st May 2018
si no saben como guardar el proyecto solo tienen que ampliar la vista de la pantalla tirarle una foto ya sea con el teléfono o capturar la imagen con la computadora y listo !! If you do not know how to save the project, you only have to enlarge the screen view, take a picture with your phone or capture the image with the computer and you're done!
On 21st May 2018
TODO ESTA PERFECTO SOLO QUE NO SE COMO GUARDARLO
By ROBERTO PUGA on 10th May 2018
Extremely Useful, and great tool. Well done
By Ash - Outback Australia on 2nd May 2018
Very nice land measuring calculator. Thank you very much.
By Md.Rabiul Islam on 2nd May 2018
Be good to change from Area Measure to distance measure and visa versa without reloading the map. Ie; to be able to mark out the area then measure the distances from way points without loosing the area you have marked out would be very useful.
By vance on 22nd April 2018
EXCELENTE HERRAMIENTA
By Mr kRA on 17th April 2018
Awesome, We know area for information, not depend on any other person or tools. Thank You for Making it.
By Prashnat Barage on 14th April 2018
awesome calculator....
By Ali on 9th April 2018
What a tool excellent very very useful
By Miriyala lakshminarayana on 6th April 2018
Very useful tool. Looking forward to version that divide plot into subplots for land use.
By Mamour on 6th April 2018
ONE ACARE
On 5th April 2018
Very good tool ...
By Hassan ahmed on 1st April 2018
muy bueno
By carlos lasso on 14th March 2018
Thank you. Of all the ones saying they can measure land area - this one is the best. And easiest. And most intuitive.
By Dr Steve on 12th March 2018
Showing the most recent 20 out of 1257 comments. Click to see all the comments.
Add your own comment below and let others know what you think: