Area Calculator
This planimeter tool can be used to measure the enclosed area of a defined polyline on a map.
Measure an Area
Area Output
0 m²
0 km²
0 Acres
0 Hectares
0 Feet²
Perimeter Output
0 m
0 km
Options
[Map Height : Small - Medium - Large
Read KML (Beta)
Instructions
To use the area calculator tool:
Zoom and pan the map to find the area of interest
Click on the map to place a vertices for the polyline
Click as many time as necessary to define the polyline
The area enclosed will them be output in square meters and square kilometers
You can click the [Delete Last Point] button if you make a mistake or click [Clear All] points to remove all points from the map and start again.
You can also reposition the markers after they have been placed on the map by dragging and dropping them.
To draw a new area click the [Start a New Area] button or press Alt+n
Information
The area calculator tool allows you to find out the area that is enclosed inside a closed polyline overlaid on a map.
Benchmarks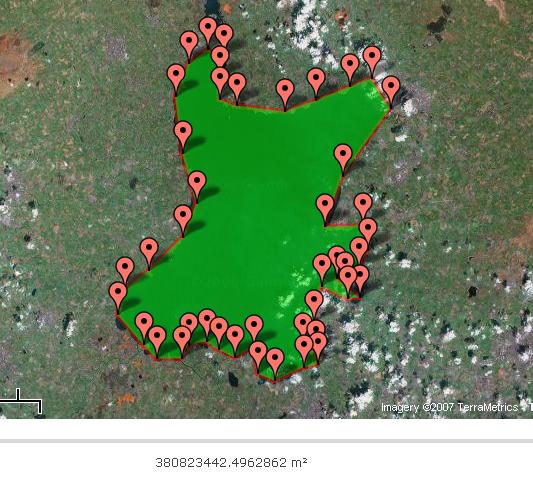 A measurement of Lough Neagh in Northern Ireland. Lough Neagh is reported to have a surface area of 388 km² [1] , so the reading of 380 823 442m² isn't far off.
Future Uses and Ideas
Allow the user to change the colour of the polylines and area shading (including transparent)
Allow the area to be saved for later use
Export to KML option
Version History
17th June 2015 - Markers now show their lat/lng when you hover over them
18th December 2014 - Total area is now calculated
23rd March 2014 - Added Hectares output
6th August 2013 - Issue with perimeter output fixed
21st February 2013 - Added square feet output
8th January 2012 - Upgraded to Google Maps API V3 and some new features
20th July 2010 - Added crosshairs and option to switch on/off crosshairs
17th June 2010 - Added upload KML option (beta)
2nd June 2010 - Moved the scale control to the top of map to stop conflict with Google Search bar
2nd February 2010 - Added perimeter output in meters and kilometers
25th March 2008 - Draggable markers, ability to click inside polygon and output in acres added
26th June 2007 - Basic area calculation added
24th June 2007 - Page created
Comments For This Page
VERY HELPFULL TOOL
By Arturo Uribe on 16th October 2017
Very good.
By BIPLAB NAYAK on 4th October 2017
awesome page helped me measure roofs or buildings for work, nz
By Jesse M on 27th September 2017
quite interesting
On 12th September 2017
Please calculate the sq ftg of the red area market on the attached pdf thanks for this. KR Michael.
By Michael. on 8th September 2017
how do I print a copy of a highlighted area?
By Thicko on 26th August 2017
many thank it's work
By Sirirux k. on 21st August 2017
Its now an icon at the top right of the map.
By Free Map Tools on 18th August 2017
what happened to the full-screen option?
On 18th August 2017
It is very helpful! Great tools.
On 14th August 2017
Very useful - thank you
By Jan on 9th August 2017
Really useful. Would be nice to be able to overlay an OS map (e.g. from Bing)
By David on 9th August 2017
Very good
By Iman on 27th July 2017
Hi Chris, assuming you mean UK postcodes, this page should do what you suggest : Find UK Postcodes Inside a User Defined Area.
By Free Map Tools on 26th July 2017
It would be great to see the postcodes in the polygon
By Chris H on 26th July 2017
kalagatagi taluk jinnur vileg
By nagappa on 15th July 2017
Alberto, there are no immanent plans to provide this functionality.
By Free Map Tools on 4th July 2017
Do you plan to add area calculation for pologons with different altitudes?
By Alberto on 4th July 2017
EXCELLANT TOOL, THANKS GOOGLE MAPS
By DR Honnappa Bandi on 4th July 2017
want to see the area
On 30th June 2017
Showing the most recent 20 out of 1214 comments. Click to see all the comments.
Add your own comment below and let others know what you think: