Area Calculator
This planimeter tool can be used to measure the enclosed area of a defined polyline on a map.
[11th July 2018] Unfortunately, due to a large price increase in back-end services, we can no longer offer some features on this page.
Measure an Area
Area Output
0 m²
0 km²
0 Acres
0 Hectares
0 Feet²
Perimeter Output
0 m
0 km
Options
[Map Height : Small - Medium - Large
Read KML
Instructions
To use the area calculator tool:
Zoom and pan the map to find the area of interest
Click on the map to place a vertices for the polyline
Click as many time as necessary to define the polyline
The area enclosed will them be output in square meters and square kilometers
You can click the [Delete Last Point] button if you make a mistake or click [Clear All] points to remove all points from the map and start again.
You can also reposition the markers after they have been placed on the map by dragging and dropping them.
To draw a new area click the [Start a New Area] button or press Alt+n
Information
The area calculator tool allows you to find out the area that is enclosed inside a closed polyline overlaid on a map.
Benchmarks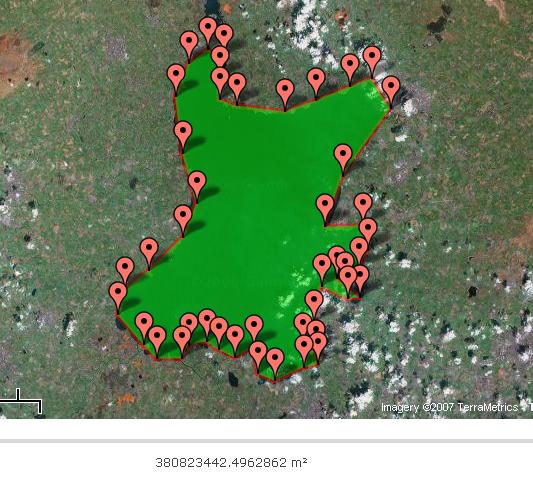 A measurement of Lough Neagh in Northern Ireland. Lough Neagh is reported to have a surface area of 388 km² [1] , so the reading of 380 823 442m² isn't far off.
Future Uses and Ideas
Allow the user to change the colour of the polylines and area shading (including transparent)
Allow the area to be saved for later use
Export to KML option
Version History
17th June 2015 - Markers now show their lat/lng when you hover over them
18th December 2014 - Total area is now calculated
23rd March 2014 - Added Hectares output
6th August 2013 - Issue with perimeter output fixed
21st February 2013 - Added square feet output
8th January 2012 - Upgraded to Google Maps API V3 and some new features
20th July 2010 - Added crosshairs and option to switch on/off crosshairs
17th June 2010 - Added upload KML option (beta)
2nd June 2010 - Moved the scale control to the top of map to stop conflict with Google Search bar
2nd February 2010 - Added perimeter output in meters and kilometers
25th March 2008 - Draggable markers, ability to click inside polygon and output in acres added
26th June 2007 - Basic area calculation added
24th June 2007 - Page created
Comments For This Page
while zoom in measurement is different than zoom out what is the right way to measure accuret
By r v bathe on 12th March 2020
omg this is amazing
On 11th February 2020
In trying to be compliant to my late father's will, I moved over to his old property but, its grounds' size being to much for my and my wife's needs, this tool helps me not only calculate the spare area to be sold out, but also to estimate its market value based on this important info alone. Thank you ever so much!
By "Maringaense" on 9th February 2020
Ariya napna hai
By bhujbal yadaw on 9th February 2020
Good tool but be good if we could measure area f map on full screen mode...can this be done? Also be good if we could print it out
By a J on 7th January 2020
Excellent tool.Very useful
By Ken on 4th January 2020
like
By thet lwin on 21st December 2019
good job for work
By zaw on 4th December 2019
Good for me
By zz on 4th December 2019
very clever tools
By mele on 17th November 2019
very useful tool thanks
On 13th November 2019
Sue, why is it not working?
By Free Map Tools on 15th October 2019
This tool works great to determine the size of all the greens on a golf course. I need total sq.ft. in order to write proposals of chemicals and fertilizer with some courses that do not know the total size of their greens. This allows me to get close without walk all the greens with a wheel or tape.
By Steve Hamelau on 13th October 2019
why not working now?
By Sue on 13th October 2019
Thank you very much.Very helpful site.
On 6th October 2019
Fantastic bit of kit, thanks.
By Paul on 30th September 2019
Brilliant for working out field sizes!
By John on 17th September 2019
Love the tool. Use it whenever I%u2019m in doubt about some area. Thank you
By Shahan on 4th September 2019
golopp
On 27th August 2019
As a Mathematician, your site is precisely accurate within a mean of 5%. These are, and can be used as Financial & Business Demographical outputs, transcending the necessary needs for the tax paying public. I wholeheartedly thank you & your R & D Staff for facilitating my work. Rick Parent Montreal, Quebec, Canada
By Rick Parent on 12th August 2019
Showing the most recent 20 out of 1329 comments. Click to see all the comments.
Add your own comment below and let others know what you think:
Comments

Your Name (optional)