Area Calculator
This planimeter tool can be used to measure the enclosed area of a defined polyline on a map.
[11th July 2018] Unfortunately, due to a large price increase in back-end services, we can no longer offer some features on this page.
Measure an Area
Area Output
0 m²
0 km²
0 Acres
0 Hectares
0 Feet²
Perimeter Output
0 m
0 km
Options
[Map Height : Small - Medium - Large
Read KML
Instructions
To use the area calculator tool:
Zoom and pan the map to find the area of interest
Click on the map to place a vertices for the polyline
Click as many time as necessary to define the polyline
The area enclosed will them be output in square meters and square kilometers
You can click the [Delete Last Point] button if you make a mistake or click [Clear All] points to remove all points from the map and start again.
You can also reposition the markers after they have been placed on the map by dragging and dropping them.
To draw a new area click the [Start a New Area] button or press Alt+n
Information
The area calculator tool allows you to find out the area that is enclosed inside a closed polyline overlaid on a map.
Benchmarks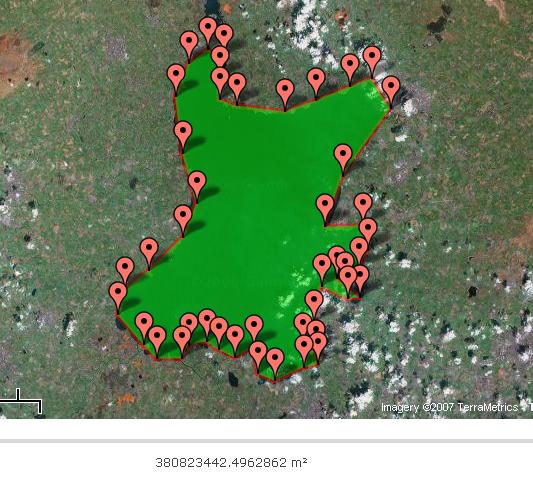 A measurement of Lough Neagh in Northern Ireland. Lough Neagh is reported to have a surface area of 388 km² [1] , so the reading of 380 823 442m² isn't far off.
Future Uses and Ideas
Allow the user to change the colour of the polylines and area shading (including transparent)
Allow the area to be saved for later use
Export to KML option
Version History
17th June 2015 - Markers now show their lat/lng when you hover over them
18th December 2014 - Total area is now calculated
23rd March 2014 - Added Hectares output
6th August 2013 - Issue with perimeter output fixed
21st February 2013 - Added square feet output
8th January 2012 - Upgraded to Google Maps API V3 and some new features
20th July 2010 - Added crosshairs and option to switch on/off crosshairs
17th June 2010 - Added upload KML option (beta)
2nd June 2010 - Moved the scale control to the top of map to stop conflict with Google Search bar
2nd February 2010 - Added perimeter output in meters and kilometers
25th March 2008 - Draggable markers, ability to click inside polygon and output in acres added
26th June 2007 - Basic area calculation added
24th June 2007 - Page created
Comments For This Page
Laghari, please have a look at : Measure Distance on a Map.
By Free Map Tools on 13th July 2021
Very nice tool, please improve this for point to point measurement. Thanks.
By Laghari. on 10th July 2021
km are not matching improved system
By viral mistry on 19th June 2021
ye nice thanks
By Roland Sweden on 18th June 2021
The area mapped of region in km
On 13th May 2021
Used for calculating fenceline, great tool was more accurtate than walking tape measure
By Cam on 9th March 2021
I use this for my pond management business. Works great.
By david on 7th March 2021
Very useful. Thank you.
By Jonathan on 1st March 2021
Mere plot ki dimension Front 12. 9 inch Deapth 37feet Dusri deapth 33 feet Please caluculate total area in sqft
By Sanjeev on 16th February 2021
Very nice but point to point in-between measurement not display please do it well den.
By Asraf ali on 8th February 2021
6mtr. Lengths, 2mtr.height 1mtr. Squares
By Jose Gangmei on 31st January 2021
Télécharger Map stool
By Allali abdeslam on 16th January 2021
Hi Victor, it should be working as normal.
By Free Map Tools on 5th January 2021
por que no funciona hoy?
By victor on 5th January 2021
Very Helpfull and easy to use - thank you for making it.
By Sunny on 2nd January 2021
Great tool, beats Google's. Please add the differentiated colour in due course.
By Phrank P. on 30th November 2020
Best
By Dhanesh on 22nd November 2020
Very helpful, THANKS!
By Jeppe Bundsgaard on 17th November 2020
@Fernando Cuenca tu archivo KML no tiene los datos necesarios para realizar los cálculos. vuelve a generar el polígono y exporta el archivo KML. puedes editar los archivos con un editor de textos plano para que observes la diferencia entre ambos.
By escaiguacher on 14th November 2020
Hola todos... estoy tratando de calcular el areas de la isla ocosuyo del lgo titicaca, siguiendo todos los pasos del tutorial, pero no hay resultado ..!! splo indica cargado...pero no hay mas opciones o ventanas para ver el resultado. alguien me puede decir a que se debe? se los agradeceria mucho
By Fernando Cuenca on 2nd November 2020
Showing the most recent 20 out of 1368 comments. Click to see all the comments.
Add your own comment below and let others know what you think:
Comments

Your Name (optional)