About User Menu
The Free Map Tools User Menu is an addition to the Free Map Tools website intended to allow user-specific work to be saved, reloaded and shared between different pages on Free Map Tools.
There a number of aspects to the User Menu:
All actions are user specific. Nothing you do is available to other users unless you decide to share the XML export file.
You do not have to use the User Menu in order to use Free Map Tools
All data stored can be removed quickly
All data is stored on your local machine. There is no server storage.
Persistent data can be kept in the form of an XML file that you download, retain and upload at a later date. You hold your data.
There are no logins, signups or passwords. We don't know who you are!
Explanation of Options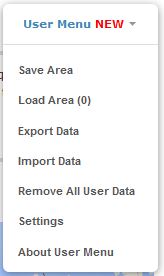 | | |
| --- | --- |
| Option | Explanation |
| Save [Area] | Save the [Area]/[Route]/[Radius] on the current page |
| Load [Area] | Load the [Area]/[Route]/[Radius] on to the current page |
| Export Data | This will allow you to export and data held in memory to a file that you save save locally. The file is in XML format |
| Import Data | This will allow you to import a previously exported XML file. It will load all saved areas, radius and routes and allow them to be loaded on the page(s) on Free Map Tools. Note, all existing saved data is overwritten |
| Remove All User Data | Removes all data stored on your machine |
| Settings | Allows you to change various settings relating to markers |
| About User Menu | This page! |
XML Export
The XML export file can be used to...
Allow you to backup your work
Allow you to transfer your map data to another machine for your own use
Allow you to share your data with others
Context Options
The options that appear in the menu are made available depending on the context (the page) you are on. Some pages with have no options to save or load. Others will allow you to save and or load. Depending on the page, there will be three 'types' to save and load:
Settings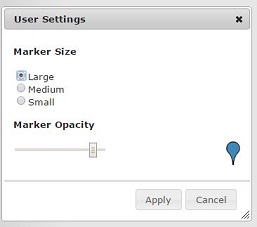 The Settings option inside the User Menu can be used to change the appearance of the markers on the map. You can adjust the size of the markers by selecting Large, Medium or Small. You can also change the opacity of the marker using the slider. A preview marker is displayed on the Settings window. Once you have the correct settings, click Apply. If you do not want to make any changes, click Cancel.
Feature Table
A table to highlight the options for saving and loading areas, radius and routes on pages on Free Map Tools. Generally you should be aiming to save on one page load the save 'type' on the same or another page.
Suggestions and Bug Reports
Please contact us to highlight any bugs or suggest changes to the User Menu.
Comments For This Page
I am trying t find the distance from my location in feet, and I cant seem to click on any part that will help me find it
By thom on 20th April 2021
map gold iran
By iran on 16th February 2021
How do you change The display s language
On 24th October 2020
Raminta, sorry, this is not possible.
By Free Map Tools on 27th July 2020
Hi, Can i upload a file with a list of locations (lat/ long or address) and get population estimate withing a certain radius for each of them?
By Raminta on 22nd July 2020
Hi Paul, sorry, that is not possible.
By Free Map Tools on 26th June 2020
Can I upload street addresses and zip code and see which ones are within a certain radius from a given address?
By Paul on 25th June 2020
Map doesnt load
On 16th May 2020
I do not see a "clear all labels" option, also i was starting to get -32,000 for every place i clicked when i zoomed way out.
On 1st May 2020
This map shows cities and towns
On 9th March 2020
The ground height of my house is 20 metres. What is the reference point where it is taken from ? Ie what or where is zero height.
By Anthony Loach on 26th February 2020
Stuart, please try it again and let us know if it works now?
By Free Map Tools on 12th February 2020
My maps now only show direct distances and not the distance by road. PLEASE can somebody explain to me what I need to do?! Many thanks, Stuart
By Stuart on 12th February 2020
I would like a mileage report from above zip codes. I am still waiting. Maybe it's not free.
On 2nd November 2019
In the past I had always found this map tool easy to use, now it is impossible to operate. Whatever changes in this program that were made has destroyed the user friendly aspect of this Map Tool. Sad. Disappointing. Goodbye.
By KEITH RAWLS on 2nd June 2019
the map will not load
On 15th May 2019
how do I print off the area I havemeasured On 22nd March 2018
By arsen on 23rd March 2018
how do I print off the area I havemeasured
On 22nd March 2018
How can I print the map with the radius that I have created?
By Judy Petersen on 16th January 2018
How accurate is this for Canadian cities? What is the source for population? What year is the census from? Thanks!
On 20th July 2017
Showing the most recent 20 out of 40 comments. Click to see all the comments.
Add your own comment below and let others know what you think:
Comments

Your Name (optional)