Find Population on Map
Map of the world where you define an area then find out the estimated population inside that area. You can use this tool to find the population inside a radius of any location in the world or define a custom area and find the population in the area.
Population Inside a Area Search Map
Polygon Radius
Input
Add Radius manually : Radius km OR miles Location :
Output
Options
Instructions
Search, zoom and pan the map to find the desired location
Toggle the Polygon or Radius above the map to start drawing a polygon or a radius circle
Click on the map to define the outside edge of the polygon. You can move the edges after it has been drawn. You can delete an edge by right clicking
Once the area is defined, click the [Find Population] button to find the population inside
After a delay, the estimated population is returned and displayed below the map
Other notes:
Click the [Full Screen] icon on the map to view the map in full screen
Click the [Zoom To Fit] button to zoom your map in/out on the area drawn
Click the [Reset Map] button to start again
Example Population Estimate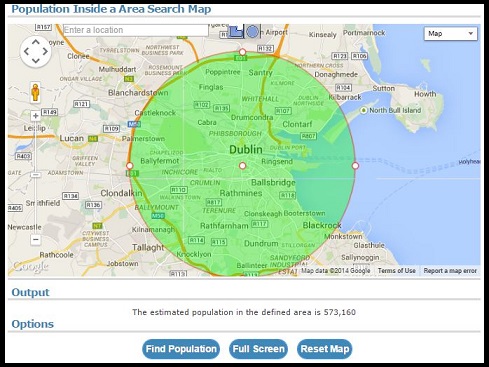 Screenshot of radius population estimate for Dublin, Republic or Ireland
Version History
15th October 2018 : Version 3.0 - Converted to Leaflet maps
22nd March 2015 : Version 2.3 - Radius can now be drawn with a manual radius and location
15th January 2015 : Version 2.2 - Now displays circle radius in miles as well as km
8th November 2014 : Version 2.1 - Added Zoom to Fit button
15th July 2014 : Version 2 - Added radius circle search for population
15th July 2014 : Version 1.1 - Polygon Search now works clockwise and anticlockwise
28th June 2014 : Version 1 - Initial Version. Polygon Search
Comments For This Page
Hi Roger, thanks for your comments. The circle should go away if you click [Reset Map].
By Free Map Tools on 10th June 2019
Current update map starts with a circle down I cannot remove or modify. It limits the usefulness. Unlike the other complainers, I appreciate ALL your brilliant tools. Some are just more functional than others. :-)
By Roger Perry on 10th June 2019
Population counts are off and useless. I now get 17 million inhabitants in an area that was given as 150 million a while ago. This sucks.
By Thorsten on 7th June 2019
U cant change the size of the circle
By Josh on 4th June 2019
Not accurate anymore. It used to be a great, reliable tool. Whatever changed caused population totals to be WAYYY low.
On 12th March 2019
The Full Screen button has been re-added.
By Free Map Tools on 3rd March 2019
Please - where is the FULL SCREEN button
By David on 27th February 2019
Hi, This services available with webservices? Thank you for your answer! Zsolt
By Zsolt Boszormenyi on 8th February 2019
It puts the estimated population of Istanbul and the surrounding peninsula as 146,000. There are nearly 15 million people in Istanbul alone.
On 7th February 2019
Ace - it's back working again. Thank you for sorting it out.
On 1st February 2019
I can no longer get this application to work either. I'm not sure how accurate it was but it certainly gave me a rough figure in the past to be able work with.
By Francis on 31st January 2019
this is a very useful tool, however it does not work anymore.
By Athena on 21st January 2019
What's happened? This was such a useful tool. Now no longer works properly at all... What a shame.
On 20th January 2019
Thanks, got what I needed!
On 7th December 2018
I made a box that covered a large area, but it didn't work. Don't like the recent update.
On 24th November 2018
This is NOT accurate. I tried to use it to find the population of Hawaii and it told me 0.
On 23rd November 2018
used to be a great website recent update has ruined a once very cool tool
On 5th November 2018
The population Radius only works sometimes....this is unreliable.
By Ehren on 27th October 2018
This tool is very, very, very bad. That's an order!
On 25th October 2018
Not sure I should complain about something that is free, but the polygon tool is no nowhere near as functional as before the change. A shame, as this was a great tool I would have gladly paid a small fee for.
On 24th October 2018
Showing the most recent 20 out of 132 comments. Click to see all the comments.
Add your own comment below and let others know what you think:
Comments

Your Name (optional)