Find Population on Map
Map of the world where you define an area then find out the estimated population inside that area. You can use this tool to find the population inside a radius of any location in the world or define a custom area and find the population in the area.
Population Inside a Area Search Map
Loading Map, Please wait...

Input
Add Radius manually : Radius km OR miles Location :
Output
Options
Instructions
Search, zoom and pan the map to find the desired location
Click the or icon to start drawing a polygon or a radius circle
Click on the map to define the outside edge of the polygon. You can move the edges after it has been drawn. You can delete an edge by right clicking
Once the area is defined, click the [Find Population] button to find the population inside
After a delay, the estimated population is returned and displayed below the map
Other notes:
Click the [Full Screen] icon on the map to view the map in full screen
Click the [Zoom To Fit] button to zoom your map in/out on the area drawn
Click the [Reset Map] button to start again
Example Population Estimate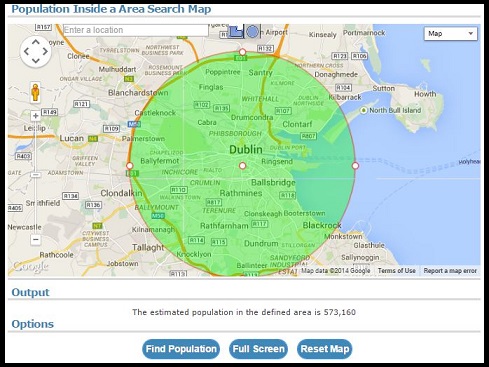 Screenshot of radius population estimate for Dublin, Republic or Ireland
Version History
22nd March 2015 : Version 2.3 - Radius can now be drawn with a manual radius and location
15th January 2015 : Version 2.2 - Now displays circle radius in miles as well as km
8th November 2014 : Version 2.1 - Added Zoom to Fit button
15th July 2014 : Version 2 - Added radius circle search for population
15th July 2014 : Version 1.1 - Polygon Search now works clockwise and anticlockwise
28th June 2014 : Version 1 - Initial Version. Polygon Search
Comments For This Page
what a wonderful tools. I have been looking for a interactive map like this since my childhood
By Amirali Zandie on 18th June 2018
Thank you for the tool. Can you please state your data source for the population data. Thanks
By Rob on 11th June 2018
I am new here - how do you "clear" a result for a polygon? when i try to get new points, it just connects with the old points
On 6th June 2018
Can you tell me what the pop. database is for the United States? What are minimum polygons fitting population? Thank you.
On 4th June 2018
I suppose it has a database of population density and it simply multiplies density by area. For some less popular countries they have one density for the whole country which is why some big cities are totally miscalculated.
By Flatko on 3rd June 2018
Can switch between locations easily, but trying to switch the distance, even using "reset map" doesn't work. Not sure what years you are using for north American city data but it appears accurate but a little out of date
On 15th May 2018
Garbage not worth the effert
On 30th March 2018
I got 128 million for Japan, seems right on! -------The population of Japan is not 7,600. This is insanely inaccurate. } Cool website!
On 14th March 2018
The population of Japan is not 7,600. This is insanely inaccurate.
On 4th March 2018
Thank You!
By Roman on 27th February 2018
I checked a place with 10,000 inhabitants and got the answer 700
On 27th February 2018
This page is wrong... actually I was looking for the population of the metropolitan area of Bogotá ,with it included, which counts 7,9 millions habitants, and it shows me just 4,9 millions
On 23rd February 2018
Really wish I could find households!
On 21st February 2018
very useful. thanks
By sumanta chakraborty on 12th February 2018
I'm a web developer who is looking to build a very similar web feature to the one described here. I'd love to learn how your system is calculating the population based on the area selected.
By Christopher Thomson on 27th November 2017
Not very accurate, lists e.g. Bristol population far lower than official stats.
By Er on 14th November 2017
It seems that the larger the radius the more accurate which doesn't make sense. Using a 20mi radius is pretty accurate in the US but places I tried in other areas are hit and misses.
On 11th November 2017
This works. However, there are quite a few simple usability related bugs. Try and follow the instructions. Sometimes, I click "Find population" without ensuring that a circle is marked on the map, which would keep it spinning.
On 11th November 2017
I can not get a population radius around any addresses that I enter. The site must be broken. Can anyone reccommend a better site?
By Ehren Jacobs on 8th November 2017
Site just hanged and hanged when I did a query.
By Blind Redhat on 7th November 2017
Showing the most recent 20 out of 103 comments. Click to see all the comments.
Add your own comment below and let others know what you think: