Find Population on Map
Map of the world where you define an area then find out the estimated population inside that area. You can use this tool to find the population inside a radius of any location in the world or define a custom area and find the population in the area.
Population Inside a Area Search Map
Loading Map, Please wait...

Input
Add Radius manually : Radius km OR miles Location :
Output
Options
Instructions
Search, zoom and pan the map to find the desired location
Click the or icon to start drawing a polygon or a radius circle
Click on the map to define the outside edge of the polygon. You can move the edges after it has been drawn. You can delete an edge by right clicking
Once the area is defined, click the [Find Population] button to find the population inside
After a delay, the estimated population is returned and displayed below the map
Other notes:
Click the [Full Screen] icon on the map to view the map in full screen
Click the [Zoom To Fit] button to zoom your map in/out on the area drawn
Click the [Reset Map] button to start again
Example Population Estimate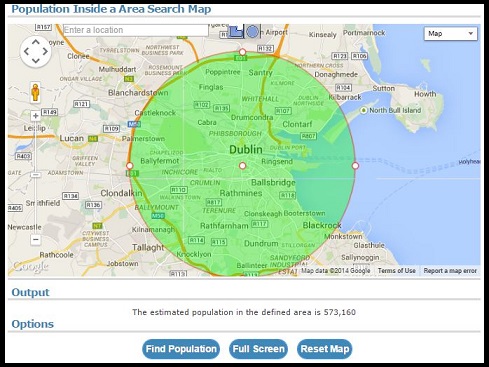 Screenshot of radius population estimate for Dublin, Republic or Ireland
Version History
22nd March 2015 : Version 2.3 - Radius can now be drawn with a manual radius and location
15th January 2015 : Version 2.2 - Now displays circle radius in miles as well as km
8th November 2014 : Version 2.1 - Added Zoom to Fit button
15th July 2014 : Version 2 - Added radius circle search for population
15th July 2014 : Version 1.1 - Polygon Search now works clockwise and anticlockwise
28th June 2014 : Version 1 - Initial Version. Polygon Search
Comments For This Page
This page is wrong... actually I was looking for the population of the metropolitan area of Bogotá ,with it included, which counts 7,9 millions habitants, and it shows me just 4,9 millions
On 23rd February 2018
Really wish I could find households!
On 21st February 2018
very useful. thanks
By sumanta chakraborty on 12th February 2018
I'm a web developer who is looking to build a very similar web feature to the one described here. I'd love to learn how your system is calculating the population based on the area selected.
By Christopher Thomson on 27th November 2017
Not very accurate, lists e.g. Bristol population far lower than official stats.
By Er on 14th November 2017
It seems that the larger the radius the more accurate which doesn't make sense. Using a 20mi radius is pretty accurate in the US but places I tried in other areas are hit and misses.
On 11th November 2017
This works. However, there are quite a few simple usability related bugs. Try and follow the instructions. Sometimes, I click "Find population" without ensuring that a circle is marked on the map, which would keep it spinning.
On 11th November 2017
I can not get a population radius around any addresses that I enter. The site must be broken. Can anyone reccommend a better site?
By Ehren Jacobs on 8th November 2017
Site just hanged and hanged when I did a query.
By Blind Redhat on 7th November 2017
Same result for 3 mile radius as 10 mile radius....and in St Louis Mo. I think it is bogus
On 29th October 2017
Worked fine for me as of Sept 1, 2017, on New Zealand, Peru, Puerto Rico and several other places. Not exactly accurate but within ~10% of expected value.
On 2nd October 2017
This is AWFUL. New Zealand pulled up fewer than 500K residents. Are you kidding me??? (NZ has 4 million plus people!)
On 13th September 2017
This is a great website! You should try it
By Advait Naveen on 18th August 2017
Tried Manhattan and it gave me a population of only half the actual estimated population. What a joke!
On 22nd July 2017
Which Census is this from?
On 21st July 2017
There's a problem, I get the same population of just over 10 million whether I use a 100, 60, 10 or 1km radius circle!
By Stub on 21st July 2017
may not want to allow overlap, also tried the whole world and got under 700 million. that's off by an order of magnitude.
On 18th July 2017
Hi, is the population data based on 2010 census data? Thank you!
By Rose on 13th July 2017
Great %uD83D%uDC4D%uD83C%uDFFD
By Waran on 13th June 2017
If at all possible, there should be population vs age groups so if you want to know how many people within the age range of 15-20 or 21-25 or something
On 5th May 2017
Showing the most recent 20 out of 92 comments. Click to see all the comments.
Add your own comment below and let others know what you think: