Find Population on Map
Map of the world where you define an area then find out the estimated population inside that area. You can use this tool to find the population inside a radius of any location in the world or define a custom area and find the population in the area.
Population Inside a Area Search Map
Loading Map, Please wait...

Input
Add Radius manually : Radius km OR miles Location :
Output
Options
Instructions
Search, zoom and pan the map to find the desired location
Click the or icon to start drawing a polygon or a radius circle
Click on the map to define the outside edge of the polygon. You can move the edges after it has been drawn. You can delete an edge by right clicking
Once the area is defined, click the [Find Population] button to find the population inside
After a delay, the estimated population is returned and displayed below the map
Other notes:
Click the [Full Screen] button to view the map in full screen
Click the [Zoom To Fit] button to zoom your map in/out on the area drawn
Click the [Reset Map] button to start again
Example Population Estimate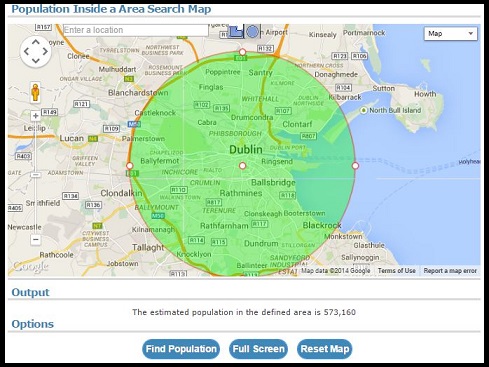 Screenshot of radius population estimate for Dublin, Republic or Ireland
Version History
22nd March 2015 : Version 2.3 - Radius can now be drawn with a manual radius and location
15th January 2015 : Version 2.2 - Now displays circle radius in miles as well as km
8th November 2014 : Version 2.1 - Added Zoom to Fit button
15th July 2014 : Version 2 - Added radius circle search for population
15th July 2014 : Version 1.1 - Polygon Search now works clockwise and anticlockwise
28th June 2014 : Version 1 - Initial Version. Polygon Search
Previous Comments For This Page
Great Idea! Use it all the time. Please update
By Milky on 4th January 2017
What year are these Statics from?
On 27th December 2016
Inaccurate at all. Tried a few locations in the Middle East and results were way off.
On 28th November 2016
don't know yet
By mitch on 25th November 2016
SWEET! Thank you!
By MikeK on 1st November 2016
Useless tool. Inaccurate population numbers and tools don't work. good idea, horrible execution.
By Jon on 18th October 2016
Hi,This program works very hectic and uncertain. 1st problem: how can I mark certain area? The two incon above does not work. 2nd problem: in case of direct input sometimes I get the shaded area and the calculation run well. Then other time if I enter new range,I don't get a new shaded area, and the calculation not runing. In certain circumtances for range 800Km I get less population than for 700 Km! How possible this ? Good idea , but not excellent development! Regards,Joe
By Joe on 20th September 2016
Very poorly done. I realize it's "Free Map Tools," but you have done much better. Seems to be more of a guess loosely based on local statistics rather than anything resembling reality.
By Fred on 11th August 2016
Incredibly inaccurate. Shows less than a seventh of my town's population!
On 31st July 2016
worst and misleading software. dont change the dimenions and you will find same population across all region.
By Sachin tendulkar on 29th July 2016
I am thankful to the developers of this platform.But I sorry the results are not accurate at all. How can a municipal capital like Dunkwa-On-Offin in Central Region,Ghana have the same population as that of Accra
By Testing on 19th July 2016
Raleigh Durham is way to low
On 29th June 2016
What is the source of data for the U.S. and what year is it?
By Roger on 6th June 2016
Why is it so slow???
On 3rd June 2016
This is fantastic! Exactly what I was looking for.
On 31st May 2016
I am trying to do population growth projections for a certain area and am curious how recent your data is. Like year?
On 26th April 2016
5 miles from Akron
On 29th March 2016
Mexicali not accounted for
On 13th March 2016
Dhaka Cantonement: 53,035,100 Dongguan Science and Technology Museum (Guangzhou): 51,247,200 Kalyani (Kolkatta): 49,002,110 Tokyo Tokyo Dome: 39,526,090 Shnaghai Nong Shan Yin Hang: 28,269,080 Mexico City Palacio des Bellas Artes: 26,475,060 Sao PAulo Se Metro: 25,759,050 Ulhasnagar Station (Mumbai): 25,389,010 Osaka Umeda Station: 21,407,210 New York Time's Square: 20,610,000 London Royal Stock Exchange: 18,260,700 Wuppertal Hauptbahnhof (Ruhr): 17,239,280 Los Angeles Grand Park: 16,267,700 Utrecht Central Station (NL): 13,327,080 Paris Ile de la Cite: 13,114,050 Walnut Creek BART (San Francisco): 8,949,951 Sydney Circular Quay: 4,587,541 A few areas I compared. I think the Guangzhou region with Shenzhen, Hong Kong, and Macau has the makings of being the true number one world metropolis. I suppose China should give up its special administrative regions to just allow passport free travel throughout the entire area. Dhaka is truly incredible too.
On 8th March 2016
A very great tool. Surely it needs to be updated periodically. In so far as it works, the biggest city in the world should be Dhaka with about 53 million within 100 km. If one uses a uniform measurement, say 100 km radius, it's interesting to compare cities. Amazing that Los Angeles has such poor transportation infrastructure, considering it is indeed a significant metropolitan area on a global scale.
By Cityman5000 on 8th March 2016
Showing the most recent 20 out of 65 comments. Click to see all the comments.
Add your own comment below and let others know what you think: