Find Population on Map
Map of the world where you draw an area or radius then find out the estimated population inside that area. You can use this tool to find the population of any location in the world.
Population Inside a Area Search Map
Choose the circle or polygon icon on the toolbar and start drawing your area:
Input
Add a radius manually : Radius km OR miles Location :
Output
-
Options
Instructions
Search, zoom and pan the map to find the desired location
Toggle the Polygon or Radius draw tool by clicking on the icon on the toolbar on the map
Click on the map to define the outside edge of the polygon. You can move the edges after it has been drawn. You can delete an edge by right clicking
Once the area is defined, click the [Find Population] button to find the population inside
After a delay, the estimated population is returned and displayed below the map
Other notes:
Click the [Full Screen] icon on the map to view the map in full screen
Click the [Zoom To Fit] button to zoom your map in/out on the area drawn
Click the [Reset Map] button to start again
Data
Population data is from 2015
Example Population Estimate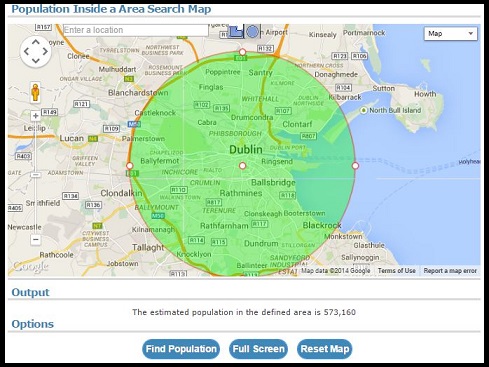 Screenshot of radius population estimate for Dublin, Republic of Ireland
Version History
6th November 2022 : Version 4.1 - Polygon search added
5th November 2022 : Version 4.0 - Up and running again with radius search
2nd October 2019 : Version 3.1 - Adding nodes to polygon no longer causes map to re-zoom
15th October 2018 : Version 3.0 - Converted to Leaflet maps
22nd March 2015 : Version 2.3 - Radius can now be drawn with a manual radius and location
15th January 2015 : Version 2.2 - Now displays circle radius in miles as well as km
8th November 2014 : Version 2.1 - Added Zoom to Fit button
15th July 2014 : Version 2 - Added radius circle search for population
15th July 2014 : Version 1.1 - Polygon Search now works clockwise and anticlockwise
28th June 2014 : Version 1 - Initial Version. Polygon Search
Comments For This Page
@Sydney, Check out Toronto, Montreal, Ottawa, or Calgary.
On 2nd December 2022
I need 1 m population in canada where should i go?
By Sydney on 2nd December 2022
Please make it the way you had it before, where we could just click and didn't have to drag to create a radius.
On 1st December 2022
been on please wait for population for about 6 hours
On 17th November 2022
Ben, please try again. An update has been made.
By Free Map Tools on 8th November 2022
The circle/polygon icons aren't showing up on the map so I can't create a radius for the population estimate. I've tried a few different browsers (Edge, Firefox, Chrome) but none seem to work.
By Ben on 8th November 2022
Fantastic tool. Please try and fix it!
By Simon on 7th November 2022
Update: The population figures might be for 2010. I traced the boundaries of Washington, D.C. which is an easy and visible shape and it spit out 605,000 which lines up with its 2010 population. It has since grown to over 700,000.
On 7th November 2022
Does anyone know how recent this population data is? I'm wondering if it's a bit old judging by the numbers I'm seeing around some fast-growing cities. However still a fantastic resource.
On 7th November 2022
Tool will allow you to create a Radius if you specifically select from the drop down menu. However, once the radius is drawn the "Find Population" function no longer works
On 1st November 2022
I doesn't work, I am giving the radius 3 Miles from existing address, nothing come out.
On 24th October 2022
I hope this gets fixed
By Euron on 20th October 2022
Wonder what happened to this tool. It was such a great resource.
On 10th October 2022
Tool is not working anymore!!
On 29th September 2022
Really sad to see that this doesn't work anymore... :(
On 14th September 2022
Why isn't the population tool working anymore? Do you need donations? What's the prob please?
On 29th August 2022
STILL nothing?
On 20th August 2022
What happened to this map? It's not working anymore :(
On 20th August 2022
what happened to this tool. it was great and now it wont even work
By Holden on 19th August 2022
This tool absolutely sucks
By Joe Biden on 14th August 2022
Showing the most recent 20 out of 239 comments. Click to see all the comments.
Add your own comment below and let others know what you think:
Comments

Your Name (optional)