Find Population on Map
Map of the world where you define an area then find out the estimated population inside that area. You can use this tool to find the population inside a radius of any location in the world or define a custom area and find the population in the area.
Population Inside a Area Search Map
Polygon Radius
Input
Add Radius manually : Radius km OR miles Location :
Output
Options
Instructions
Search, zoom and pan the map to find the desired location
Toggle the Polygon or Radius above the map to start drawing a polygon or a radius circle
Click on the map to define the outside edge of the polygon. You can move the edges after it has been drawn. You can delete an edge by right clicking
Once the area is defined, click the [Find Population] button to find the population inside
After a delay, the estimated population is returned and displayed below the map
Other notes:
Click the [Full Screen] icon on the map to view the map in full screen
Click the [Zoom To Fit] button to zoom your map in/out on the area drawn
Click the [Reset Map] button to start again
Example Population Estimate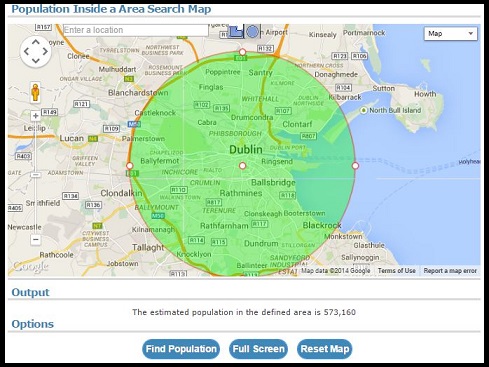 Screenshot of radius population estimate for Dublin, Republic or Ireland
Version History
2nd October 2019 : Version 3.1 - Adding nodes to polygon not longer causes map to re-zoom
15th October 2018 : Version 3.0 - Converted to Leaflet maps
22nd March 2015 : Version 2.3 - Radius can now be drawn with a manual radius and location
15th January 2015 : Version 2.2 - Now displays circle radius in miles as well as km
8th November 2014 : Version 2.1 - Added Zoom to Fit button
15th July 2014 : Version 2 - Added radius circle search for population
15th July 2014 : Version 1.1 - Polygon Search now works clockwise and anticlockwise
28th June 2014 : Version 1 - Initial Version. Polygon Search
Comments For This Page
May I ask, why is there a limit to how many points you can do?
On 11th April 2021
Can you update the system so you can calculate even smaller areas? I'm trying to calculate my neighborhood's population, but it said that the area is too small.
By jrStudios on 9th April 2021
Reset button should now be fixed
By Free Map Tools on 30th March 2021
Reset Map button isn't working?
By Magdalen on 23rd March 2021
Bad map. Metropolitan populations for Toronto, Buffalo, Rochester combined: 8 million Population estimated by this map: 636,235 You get what you pay for.
By Graff on 18th March 2021
Calculations for Surrey UK are way off
On 12th March 2021
Example of a serious error. San Carlos de Bariloche in Argentina has a population somewhere around 131,000 but when doing a 25km radius, it is returning a population of 25,142. How can it be off by 106,000??
By Cuyler on 10th March 2021
Many estimates are off by several orders of magnitude (according to 2010 USA census). Something gone wrong?
By Ben D on 5th March 2021
May I know when was this statistics was last updated?
By Jimmy Ho on 15th February 2021
How relevant is the data on this website? If the population is based on census, which year census was it?
By Glaison Francis on 2nd February 2021
On this Samsung android phone, certain advertisements make the map unaccessible to edit the parameters (like radius)
On 30th January 2021
Very cool tool. Using it for research!
On 11th January 2021
I have a suggestion - allow limiting the search to a specific country...
By Jeff on 17th December 2020
December, 2020 - No issues, very good tool even for small towns in MN.
By Paul on 16th December 2020
I agree with all previous comments, needs some HEAVY updating.
On 11th November 2020
according to this, the combined population of the Chicago and Milwaukee metros is less than 100k
By doug on 9th November 2020
Can you make it able to calculate smaller areas, I want to see the population of small towns and small neighborhoods, not just this humongous area.
By Not Your Dad on 26th October 2020
The population data for Canada (at least the Toronto area) seems to be from the 2001 census. Perhaps it would be possible to get more up to date data. The most recent census data for Canada is 2016
On 21st October 2020
Not working at all, radii ranging from 50 to 200 km give the same estimate.
On 10th September 2020
This tool gives wrong estimates. In addition, UI could be smarter and more intuitive.
On 6th August 2020
Showing the most recent 20 out of 180 comments. Click to see all the comments.
Add your own comment below and let others know what you think:
Comments

Your Name (optional)