Find Population on Map
Map of the world where you define an area then find out the estimated population inside that area. You can use this tool to find the population inside a radius of any location in the world or define a custom area and find the population in the area.
Population Inside a Area Search Map
Loading Map, Please wait...

Input
Add Radius manually : Radius km OR miles Location :
Output
Options
Instructions
Search, zoom and pan the map to find the desired location
Click the or icon to start drawing a polygon or a radius circle
Click on the map to define the outside edge of the polygon. You can move the edges after it has been drawn. You can delete an edge by right clicking
Once the area is defined, click the [Find Population] button to find the population inside
After a delay, the estimated population is returned and displayed below the map
Other notes:
Click the [Full Screen] button to view the map in full screen
Click the [Zoom To Fit] button to zoom your map in/out on the area drawn
Click the [Reset Map] button to start again
Example Population Estimate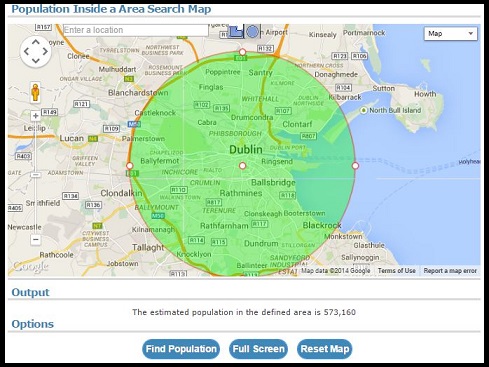 Screenshot of radius population estimate for Dublin, Republic or Ireland
Version History
22nd March 2015 : Version 2.3 - Radius can now be drawn with a manual radius and location
15th January 2015 : Version 2.2 - Now displays circle radius in miles as well as km
8th November 2014 : Version 2.1 - Added Zoom to Fit button
15th July 2014 : Version 2 - Added radius circle search for population
15th July 2014 : Version 1.1 - Polygon Search now works clockwise and anticlockwise
28th June 2014 : Version 1 - Initial Version. Polygon Search
Comments For This Page
If at all possible, there should be population vs age groups so if you want to know how many people within the age range of 15-20 or 21-25 or something
On 5th May 2017
Doesn't seem to like circles with smaller radius, e.g. 1 km. I would also like to know how many households there are in the chosen area, e.g. so we can roughly work out how many people need to be contacted about a new road scheme.
By John Nichol on 7th April 2017
The numbers for my area seem to be very close to what I was expecting (based on US Census).
By Jason on 22nd March 2017
I m sorry to say that this is crap! A 20km radius around Zagreb gives 93,019 People, but there are 10 times more people in the area. Please indicate how you calculate these numbers
By Peter on 7th March 2017
This is a very valuable application. Thank you for your effort
By Jm on 26th February 2017
Shallote
On 20th February 2017
agree with the user directly under this post
On 14th February 2017
This was highly inaccurate and I suggest to never use it
By Max on 8th February 2017
Great Idea! Use it all the time. Please update
By Milky on 4th January 2017
What year are these Statics from?
On 27th December 2016
Inaccurate at all. Tried a few locations in the Middle East and results were way off.
On 28th November 2016
don't know yet
By mitch on 25th November 2016
SWEET! Thank you!
By MikeK on 1st November 2016
Useless tool. Inaccurate population numbers and tools don't work. good idea, horrible execution.
By Jon on 18th October 2016
Hi,This program works very hectic and uncertain. 1st problem: how can I mark certain area? The two incon above does not work. 2nd problem: in case of direct input sometimes I get the shaded area and the calculation run well. Then other time if I enter new range,I don't get a new shaded area, and the calculation not runing. In certain circumtances for range 800Km I get less population than for 700 Km! How possible this ? Good idea , but not excellent development! Regards,Joe
By Joe on 20th September 2016
Very poorly done. I realize it's "Free Map Tools," but you have done much better. Seems to be more of a guess loosely based on local statistics rather than anything resembling reality.
By Fred on 11th August 2016
Incredibly inaccurate. Shows less than a seventh of my town's population!
On 31st July 2016
worst and misleading software. dont change the dimenions and you will find same population across all region.
By Sachin tendulkar on 29th July 2016
I am thankful to the developers of this platform.But I sorry the results are not accurate at all. How can a municipal capital like Dunkwa-On-Offin in Central Region,Ghana have the same population as that of Accra
By Testing on 19th July 2016
Raleigh Durham is way to low
On 29th June 2016
Showing the most recent 20 out of 73 comments. Click to see all the comments.
Add your own comment below and let others know what you think: