Find Population on Map
Map of the world where you draw an area or radius then find out the estimated population inside that area. You can use this tool to find the population of any location in the world.
Population Inside a Area Search Map
Choose the circle or polygon icon on the toolbar and start drawing your area:
Input
Add a radius manually : Radius km OR miles
Location :
Output
-
Options
Instructions
Search, zoom and pan the map to find the desired location
Toggle the Polygon or Radius draw tool by clicking on the icon on the toolbar on the map
Click on the map to define the outside edge of the polygon. You can move the edges after it has been drawn. You can delete an edge by right clicking
Once the area is defined, click the [Find Population] button to find the population inside
After a delay, the estimated population is returned and displayed below the map
Other notes:
Click the [Full Screen] icon on the map to view the map in full screen
Click the [Zoom To Fit] button to zoom your map in/out on the area drawn
Click the [Reset Map] button to start again
Data
Population data is from 2015
Example Population Estimate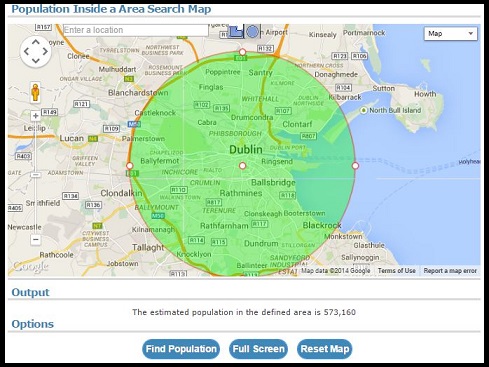 Screenshot of radius population estimate for Dublin, Republic of Ireland
Version History
9th January 2023 : Version 4.2 - Improvements to drawing radius manually
6th November 2022 : Version 4.1 - Polygon search added
5th November 2022 : Version 4.0 - Up and running again with radius search
2nd October 2019 : Version 3.1 - Adding nodes to polygon no longer causes map to re-zoom
15th October 2018 : Version 3.0 - Converted to Leaflet maps
22nd March 2015 : Version 2.3 - Radius can now be drawn with a manual radius and location
15th January 2015 : Version 2.2 - Now displays circle radius in miles as well as km
8th November 2014 : Version 2.1 - Added Zoom to Fit button
15th July 2014 : Version 2 - Added radius circle search for population
15th July 2014 : Version 1.1 - Polygon Search now works clockwise and anticlockwise
28th June 2014 : Version 1 - Initial Version. Polygon Search
Comments For This Page
its cool. i get the data i want
On 19th November 2023
I think the site is down. I cannot get any data.
On 19th October 2023
How current is this data?
By KP on 19th October 2023
Love this can you add an option to add in target age range and target income range and Homeowners Occupancy Rate?
By Daniel on 4th October 2023
Where is tool bar? I am unable to draw polygon or circle
By Aldous on 31st August 2023
How has nobody talked
By Talker on 26th August 2023
works on the computer
On 25th July 2023
Doesn%u2019t even work on apple
On 18th July 2023
For me the radius tool only works on computer, not on android phone
By Carl on 10th July 2023
Works for me. Drag the circle around the area you want to check.
By Josh on 4th July 2023
Shame it doesn't work
By Teter on 3rd July 2023
It's a shame nobody else is commenting right now.
On 2nd July 2023
Not working for me
On 1st June 2023
It's a shame it only works up to about 90km....I'm looking for one that goes up to 600km
On 20th April 2023
People can live in cemeteries? %uD83E%uDD28%uD83D%uDC80
By Curious about cemeteries on 1st April 2023
Getting error messages when trying to calculate population.
On 22nd March 2023
chrome has problems again Polygon serching gives no results
On 9th March 2023
Nvm, it works
By J on 8th March 2023
doesn't work on polygon and radius for now
By J on 8th March 2023
how will you know the radius? manual input does not work.
On 23rd February 2023
Showing the most recent 20 out of 275 comments. Click to see all the comments.
Add your own comment below and let others know what you think:
Comments

Your Name (optional)